Calus is the Emperor of the Cabal. Their supreme ruler. Or he was, up until he was overthrown and exiled by Ghaul in the rebellion known as the "Midnight Coup".
In this Midnight Coup, Ghaul, along with many of Calus' other subordinates, including his own daughter, overthrew Calus, seeing him as unfit to lead their once mighty and glorious empire, instead believing he had taken away and detracted from what was once its true values. When Calus was eventually beaten, instead of killing him outright, Ghaul exiled him, instead putting Calus on his Leviathan, and setting the course of it into "Unknown Space".
This course location is a very important point to pick up on, and leads me to my belief that Calus did not encounter the Darkness (or pyramid ships) as many people perhaps thought.
My belief is instead what I say in the title: That Calus instead met the Nine.
Firstly, we should look at the importance of the Leviathan's course. We only ever see the term "Unknown Space" used in that specific way in one other place: The Third Spire. When going to the third spire, we see that is located in Unknown Space, and we see what seems to be a large hole in the middle of nowhere
.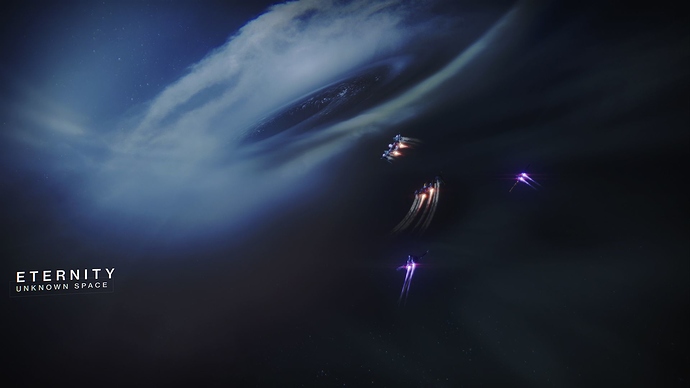 My belief is that this is not simply some strange black hole somewhere in our system, but instead some form of gateway into the current residence of the mysterious entity(s) known as "The Nine".
This gateway we see may not be the only gateway, and there may be many others located around our universe. This is how Calus was able to enter, and encounter the Nine. We can see that the Third Spire bears no resemblance to any location we have seen before, in our world, or in fact our very universe.
Some more evidence to perhaps link this to what Calus encountered can be found in the lore for the legendary raid sword "It stared back":
At the edge of the universe, I stared into the infinite deep. It stared back, and was pleased. I would become the herald of its victory, and bear witness for all creation.
The Leviathan came to a halt before a wall of infinite void. It could go no further, as the navigation system had suffered a cataclysmic failure. The course that the conspirators had set crossed a space that simply didn't exist.
I don't know how long we traveled. Years? Millennia? Time had ceased to have meaning as I wallowed in the despair of my exile. But this event shook me out of my stupor. At the edge of the universe, we had found something. No—we had found a nothing.
From the seat of my observation chamber, I stared into the perfect void. Only I, a god, could understand what I witnessed. It was a thing greater than myself. And if such a thing exists, then I, too, can become more.
Notice how he says that he stares into the "infinite void". If we observe how the 'hole' looks, it looks very much like what he states, an infinite abyss, void of anything. This mysterious wall of infinite void could well be the gateway into eternity, the current whereabouts of the Nine.
Secondly, we should look at what Calus says to us when we defeat him in the Leviathan Raid. In one speech to us, he says:
I possess the means to true agency beyond your feeble light. Seek me out and perhaps I'll show you how to grow fat from strength. So you still believe you are on the right side? Mull it over and enjoy my gifts to you.
Notice he specifically uses the word "agency". An agency, in that case, should have agents. And who do we know that has agents. The Nine. Xur and the Emissary are just a couple of examples of agents under the Nine's control. However, he states that this power is "beyond [our] feeble light". Does this mean that the Nine are not our allies? This is still a potentiality, as we know from Trials of the Nine that the Nine have a much more 'violent' philosophy, with their sole focus on annihilating their enemies. Also, we know they do not work under our rules, as it was them who released Skolas, the Wolf Kell, causing the events that unfolded in the House of Wolves DLC in Year 1.
So, in conclusion, after the coup that led to Calus' exile, Calus was send on a course into "Unknown Space". When he finally came to stop, he found himself staring into some wall of infinite void. This was not just any void, but instead the gateway to an unknown power, The Nine. He encountered this true agency, whose power was beyond anything our light has able to produce. And not only this, but the Nine are not as friendly as some may have otherwise perceived.
But again, this is all just mere theory. Would love to hear other peoples thoughts and takes on this.